What makes us laugh?
Some seek out edgy humor or crave political jokes. In other cases, audiences prefer their comedy clean.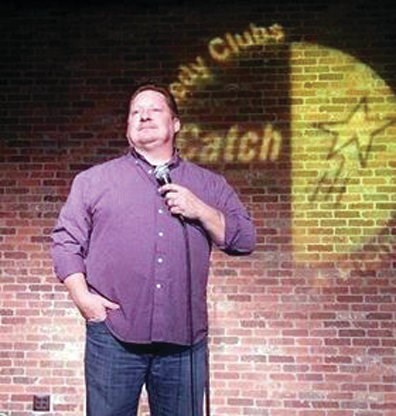 Funny 4 Funds, a comedy fundraising company that has helped local organizations raise more than $4 million since its founding in 2014, hopes to broaden its appeal to the latter group through the launch of its new Christian Comedy Division.
Run by Cranston native Mary Ellen DePetrillo Rinaldi, the division works with a dozen handpicked comedians. Rinaldi and Mike Murray, who founded Funny 4 Funds along with Bill Simas, both belong to the Christian Comics Association.
The Christian division is faith-based humor that is clean enough to be performed in a church.
"We have guidelines for our comedians, not to say certain words. There are zero political jokes. It's so hard to write clean comedy – they need to be on their game at all times. If you write clean, every single door is open to you. Writing dirty gives very limited opportunities," Murray said.
BRINGING THE FUNNY: Mike Cronin, left, and Mary Ellen DePetrillo Rinaldi, right, are both part of Funny 4 Funds' new Christian Comedy Division. They are pictured with comedian Rhonda Corey at Sacred Exchange Fellowship in this September 2018 photo.
Funny 4 Funds has already provided a range of options for its audiences, including PG, PG-13 and 18-plus shows. The organization, which now has 11 branches in New England and is aiming to expand its reach nationally, helps various organizations raise money through 90-minute stand-up comedy performances. The shows each feature three comics and can also include raffles and auctions.
"Shows can be modified from rating G to R," Murray said. "We match the comics to the crowd. We design the show based on what the client wants. Comedy is a challenge. We are proud of what we do, the work we put on. We're going to put together a show you can be proud of and make an annual event, and not repeat the show."
Murray said Dave Cordeiro, owner of Cyber Technical in Warwick, has played a key role in helping Funny 4 Funds extend its reach in the digital realm.
"He had the vision of us going national," Murray said. "He streamlined the program through the website. The website is designed to be push and play. You don't have to be a comedian to own a branch."
Rinaldi said the Christian Comedy Division is taking the same approach as the broader Funny 4 Funds organization.
"We offer a variety … trying to match acts to audience," she said. "It's not our personal opinions, but we want the audience to laugh. We suspend our judgment and personal feelings for the show."
Rinaldi is running the Christian Comedy Division with a stable of well-known, established Christian comedians.
Tom Morin has been part of the circuit for close to 30 years. Starting off at Periwinkles in the Arcade in Providence, he was part of the award-winning comedy team Caito and Morin.
"I first started doing stand-up some 30 years ago. It has been an amazing ride to say the least," he said. "My humor was never offensive prior to going out on my own. So deciding to execute stand-up clean was never an issue. My personal satisfaction from stand-up genuinely comes from the opportunity to give. At one time, it was all about what I would get out of the work I was doing. Today, that sentiment is no longer part of what I do. It is a calling for me, not merely a vocation, to be behind the mic. There is always the looming question of not knowing who will be in the audience. Therefore, it is more than likely one could add to the fabric of a total stranger's life."
Morin said Funny 4 Funds' Christian Comedy Division "is not only filling a need in Rhode Island comedy as well as New England, but it is something that has never been done before – to give an alternative comedy event where people can go and experience a faith-filled night of laughter and inspiration. A fundraiser that aids in assisting physical project needs such as building funds, etc., as well as spiritual needs."
Comic Mike Cronin of North Providence also works with the Christian Comedy Division. He has been performing stand-up on and off for more than 30 years.
"I first took the stage in my early 20s. However, it wasn't until I was in my 30s that I really found my sea legs as a stand-up and worked on a regular basis," he said. "Back then I took the stage as 'The Bad Boy of Comedy' and spewed the vilest jokes imaginable. I was working anywhere between three to four shows a week. I then took around 13 years off, only doing a show here and there."
Cronin spoke of how he found his way to the Christian Comedy Division.
"Eight years ago, my pastor, who is one of my best friends, Mike Caparrelli, in a conversation said to me, 'The gift you have to make people laugh is not yours. It's God's, and God gave it to you' … His words were planted on my heart. However, it wasn't until four years ago that I made the switch from secular comedy to Christian comedy," he said.
Cronin said he also seeks a guiding force at work through the Christian Comedy Division.
"I've been telling [Murray] about opening a Christian division for Funny 4 Funds for around three years, and now Mike has opened a Christian division and has given that to [Rinaldi] … so, you have three people, Mary Ellen, [Morin] and myself, who really hadn't known each other before, and suddenly we're going to be doing Christian comedy together under the Funny 4 Funds banner … coincidence? I think not. It's the hand of God at work," he said.
To learn more about Funny 4 Funds, including how to book a show or create a new branch, visit funny4funds.com.
By PAM SCHIFF - Beacon Communications